Can you believe we've reached the end of Summer and I'll soon be back at college? Oh, my. But still, in the holidays I've had a lot of time to rediscover some old loves and find some new ones!
1) First on this list is my old scrapbook! For those of you who don't know, I've kept a scrapbook since I was 11 - although for some years it was lost at my Grandma's after she did some "moving around" at her place. However, I continued to keep all of my gig tickets, cinema tickets, any newspaper cuttings with me in, any event pamphlets, cute little notes from family members... anything like that... so that when it was eventually found again I wouldn't have missed anything. It was found this week and I was so excited to top it up again! I'm yet to find a few gig tickets that have gone walkies but I'm sure they'll show up sometime. Scrapbooks are a great way to ensure you remember all those happy moments when you need a pick-me-up. My scrapbook is called 'A Few Of My Favourite Things' and you can find it with the ISBN: 978-1-84510-775-8. I'll be sure to upload some cute photos once there's enough light in my home to take pictures...
2) Second in Old Loves is/are pizza bagels! I had a miserable time at my old secondary school, but the one thing I can commend it for is the mistake they made with my 'free school dinners'. I never applied for free school dinners, nor do I know whether I was even eligible for them, but for some reason every day they would put a small amount of money onto my 'fingerprint' account. Maybe there was a mix-up or something. But still, it wasn't doing anybody any harm so I used to buy my favourite snack - a pizza bagel - at break-time every day, and sometimes snacks for my friends/ex-boyfriend with the leftover money. I haven't been a secondary school student for well over a year, and unfortunately pizza bagels were a luxury I had to live without when I went up to college. Until now! My dad buys me bagels from the co-op every week, and I add tomato puree and a bit of cheese... stick 'em in the oven at Gas Mark 7 for 6 minutes and there you have it - your very own (orgasmic) pizza bagel.
3) The final thing in my Old Loves category is Doctor Who! Peter Capaldi, the 12th Doctor, and Series 8 hit our screens in August and I have to say, I loved it! In places the effects have been a little shabby and Capaldi doesn't crack a smile very often (at all) but I am loving the underlying plot of Heaven/paradise this year. I also feel like, now such a huge personality like Matt Smith has left, that there's finally room for Clara to come into her own. Instead of just being Eleven's companion, it's like she's can finally able to be independent and make her own life choices. Also, I'm very intrigued by the characters of Mr. Pink and Missy. Mr. Pink has killed someone who wasn't a soldier - but who? Could Missy really be the TARDIS in human form (rumours of this first sparked when she called the Doctor her "boyfriend")? And why are only certain, specific members of the newly dead taken to Heaven - why not all of the deceased characters? I guess we'll just have to find out...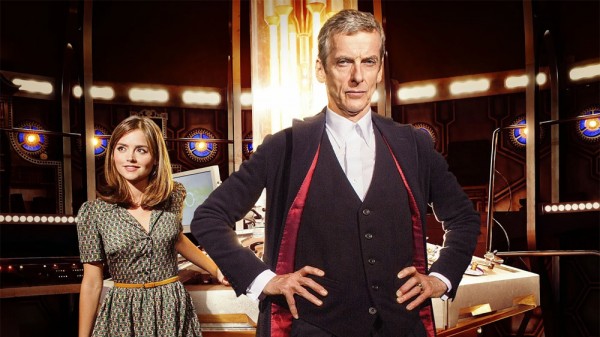 Newly-Discovered Favourites
1) Number one in my newly-discovered favourites is another popular TV show... but this time American... Breaking Bad. When Jayson (my best friend) sat me down to watch the pilot episode over a year ago, I never imagined I'd get to liking it this much. I started watching from Series 1 Episode 2 in August, and I'm now nearing the middle of Series 2. It's so hard to watch a program like this without it being spoiled by those who've already seen it though! I think what I like most about it is the unique storyline - I mean, here in the UK we have the NHS, so we could never produce a show like Breaking Bad. But, my, has America made a good job of it. I now see what all the hype about Aaron Paul's acting was about.
2) Second on this list is gigs galore! What I mean by this is the amount of gigs I've been able to get tickets for lately, or just the ones that are coming up soon. I get to see the Lee Evans Monsters tour with a few of my best friends this weekend - let's hope we don't get lost in Nottingham... but that's not even the best part! I also have tickets to see Asking Alexandria (with some very special guests) in October for Jayson's birthday, not to mention that my dad's bought me tickets for the You Me At Six and All Time Low co-headline tour for my own birthday! It doesn't stop there... this Friday I may even be getting tickets for A Day To Remember's All Signs Point To Britain Tour!!! If that's possible it will be the best gig I've ever been to. I am beyond excited for all of them.
3) Third is Thrigby Hall Wildlife Gardens, which was undoubtedly the highlight of my family's holiday in Norfolk; yet somewhere I'd never heard of before. I've been to a lot of zoos and things like that, but Thrigby Hall was so laidback and relaxing. My dad got to fufill his dream of being up and close with tigers and all kinds of leopards - thanks to the amazing walkways they've put through the centre. All wildlife centres should have those walkways. Red pandas were allowed to roam free in the trees without an enclosure which allowed visitors to see firsthand the animals' sense of happiness and freedom. We also discovered our love of Lar Gibbons there, which are monkeys that have a hilarious 'duet' with their families around midday. Hopefully, I can get a video up of that at some point. I had the best time.
4) A couple of films I really enjoyed in the cinema this month were Dawn of the Planet of the Apes and Guardians of the Galaxy. I went into Dawn with relatively low expectations. Its predecessor, Rise, being one of my favourite films, I thought there was no way they could top it. But they did! The emotion in Dawn is so powerful. There's twists and turns everywhere and it really hits you. You really care about these characters. They become real. In contrast, at the cinema watching Guardians, I was so aware I was watching a movie. But that didn't matter because it was hilarious. And the soundtrack was so different. Both films are well worth a watch. Watch Dawn when you're feeling philosophical, and save Guardians for when you need a laugh.